Climbing
Climbing Elbe sandstone – the magic of the rocks
Climbing in the Elbe sandstone is a unique experience. Who wouldn't want to climb one of the bizarre rock towers in the midst of the overwhelming natural backdrop? The vertical world gives the feeling of freedom and shows one's own limits. The unforgettable moments in the rough rock and at lofty heights are the secret of the great attraction of climbing. Adventure and desire meet there.
Climbing around Hohnstein
There are many climbing opportunities around Hohnstein. The "Brand" climbing area can be reached directly on foot. The good quality of the rock and the challenging cracks make it an excellent climbing spot. Anyone looking for professional support will also find what they are looking for in Hohnstein. Bergsport Arnold or the Kletterschule Hintermland offer courses on the natural rock.
Tradition
Climbing in the Elbe Sandstone Mountains has a long tradition. The free-standing peaks have been climbed since 1864. Specific climbing rules and a separate difficulty scale developed. Since there are only a few struck securing rings in the climbing routes, the use of textile securing means, so-called "slings" and "UFOs", is essential. This is a challenge, especially for those new to the area. Chemical aids such as magnesia are forbidden and climbing on wet rocks is not allowed. Despite these restrictions, over a thousand peaks can be climbed with climbing routes of all levels of difficulty.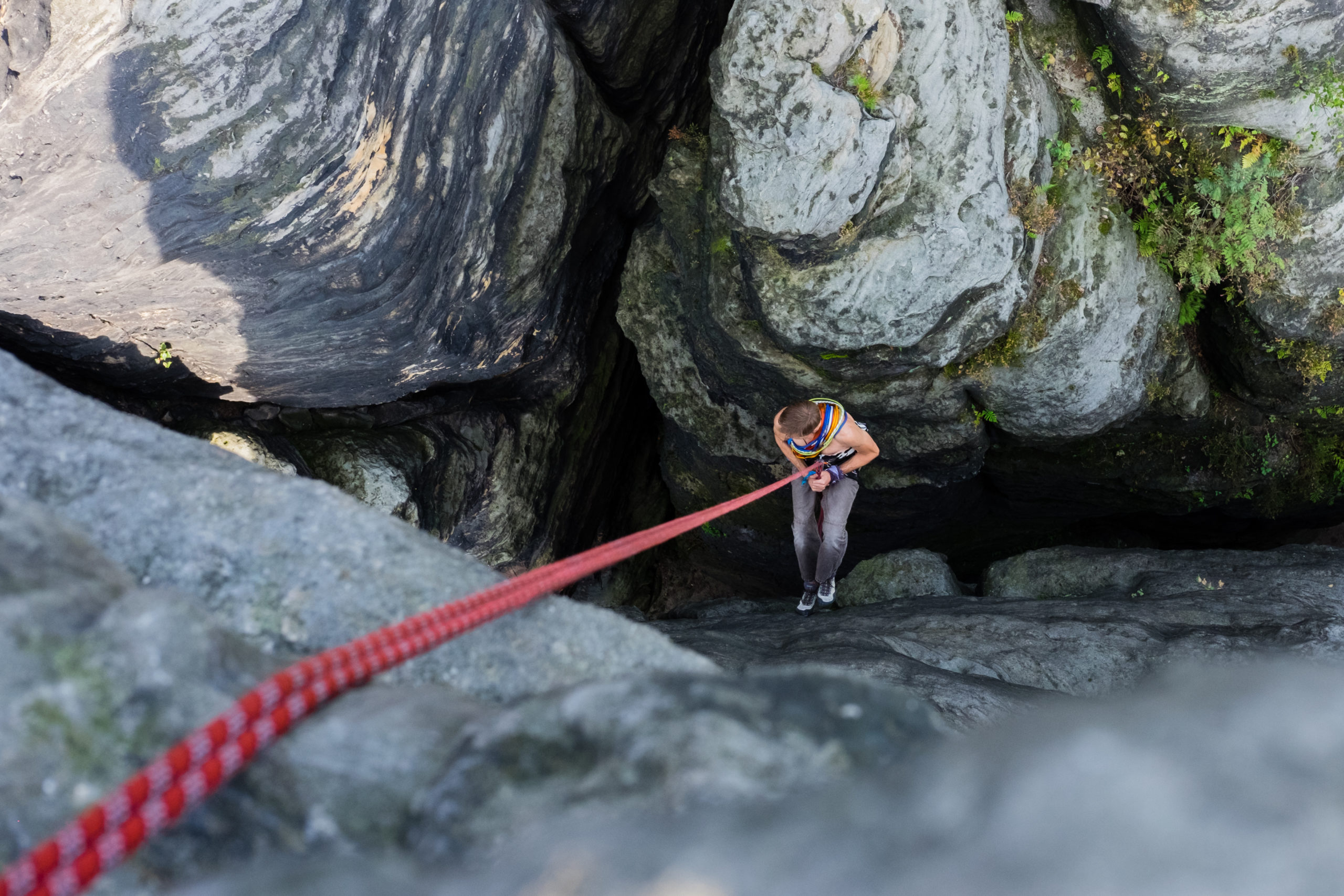 History
Climbing has been very popular for some time. Hohnstein has been associated with the sport for a long time. Some well-known climbers come from the city. This includes Otto Ufer (1856-1893), who in 1874 was the first to climb a summit free , that is, without using artificial aids such as ladders, crampons or iron pins to move around the rock. Friedrich Hartmann is one of the first explorers of the mountains and wrote articles about climbing in the Elbe sandstone from the very beginning. Bernd Arnold (* 1947) is seen by many as an icon of Elbe sandstone climbing and not only embodies the passion of climbing, his route names tell of the special sensuality.
Interested in climbing the Elbe sandstone? The Hintermland climbing school introduces itself: